こんにちわ, (Kon'nichiwa)!
PlayShifu Orboot has landed in Kagoshima, Japan!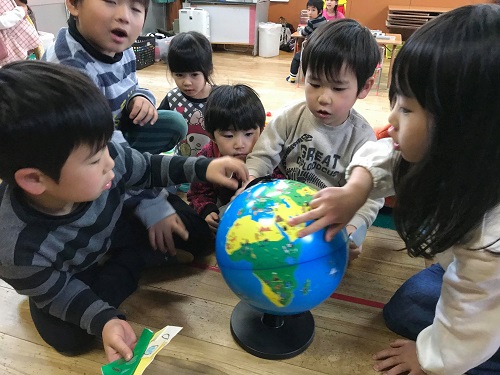 In partnership with Global Asia Partners Inc., PlayShifu Orboot was introduced to toddlers and teachers at the Tsurumine Nursery Center in Kakaya City, Kagoshima prefecture.
For the unaware, Orboot is a bestselling AR-globe that 'comes to life' with an easy-to-use and fun app, on a mobile or a tablet screen. There's no other globe that does this.
Orboot has over 400 highlights, 1000 cool facts, across 6 categories like animals, cuisine, map, inventions, monuments, and cultures for kids between 4-10 years of age to explore and learn about.
The introduction of Orboot in Japan sits well with the latest regulations launched by the Ministry of Health, Labor and Welfare, last year. Titled 'Study group on securing and improving the quality of child care in day-care centers', the Ministry released a set of guidelines for improving day-care facilities and education content of nursery schools.
While many schools have taken cognizance of the new set of regulations, there's a long way ahead towards complete implementation across schools in the country.
With the introduction of Orboot, Tsurumine Nursery School aims to achieve its "90% analog-10% digital" childcare goal this year onwards.
Although it will take time to judge how well the implementation works out in the future, on first glance, Orboot sure did impress kids and teachers alike; who had a lot of fun exploring and learning with it.
Kids were seen interacting enthusiastically with the content displayed, playing quizzes and Orboot games with each other. "I think that such a world globe can provide education and childcare to children of any family at a high level," said Professor Sugimoto Sonor.
The new regulations stress on improving the overall quality of childcare facilities. However, one drawback that comes with it, is the additional work could burden childcare workers.
But Professor Sonor believes educational toys like Orboot could help counter the drawback.
"Without increasing the work of a childcare worker, it (Orboot) is also linked to reducing the burden per childcare worker as a result of being addicted to the globe and having children voluntarily act together.
In fact, some of the children also act as teachers by using AR globes, thus making communication popular," opined Professor Sonor.
Nevertheless, Prof. Sonor is hopeful —thanks to toys like Orboot.
"To fully implement the regulations, it will take time. The childcare workers will take time to prepare for various activities and events for kids, alongside the responsibility of watching over them for long. Under these circumstances, we believe that the use of educational toys that children can play voluntarily while communicating with each other will be more necessary for childcare sites in the future, using cutting-edge technologies such as PlayShifu Orboot," he concluded.
Orboot is available in 6 languages: English, Japanese, Polish, French, German & Spanish. To know more about Orboot, click here.